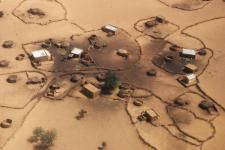 As a follow up to Technical Advisory Missions (TAM) that the UN-SPIDER programme had conducted in Asian and African countries, this training course was organized. It specifically targeted participants from countries where Technical Advisory Support had been extended in recent years.
Host institution:
Title of training:
Space technology for drought monitoring in Africa and Asia
Target group:
20 officials from eight African countries (Burkina Faso, Cameroon, Ghana, Kenya, Malawi, Mozambique, Nigeria and Sudan) and officials from five countries from the Asia-Pacific region (Fiji, Indonesia, Lao People's Democratic Republic, Samoa and Viet Nam) took part in the training course.
Training profile:
The objective of the training course was to strengthen the capacity of national agencies in the use of space-based technologies for drought monitoring and assessment. The training included comprehensive hands-on sessions based on data sets (satellite images) prepared for Africa and Asia. The main topics were drought management and space technology; satellite data processing and spatial-temporal analysis; space technology applications for drought risk assessment; and space technology applications for drought monitoring and loss assessment.