Sentinel Asia

Basic Concept
The Sentinel Asia is a voluntary initiative led by the Asia-Pacific Regional Space Agency Forum (APRSAF) to support disaster management activities in the Asia-Pacific region by applying the web GIS technology and using space based information such as earth observation satellites data.

Emergency observation by earth observation satellites in case of major disasters - Currently participating satellites are expected to be ALOS (JAXA), IRS (ISRO), THEOS (GISTDA), KOMPSAT (KARI) and others.
Acceptance of observation requests - ALOS, IRS, THEOS and KOMPSAT accept observation requests for major disasters in the Asia-Pacific region from ADRC member organizations and representative organizations of JPT members.
Wildfire monitoring, flood monitoring and Glacier Lake Outburst Flood monitoring - Besides emergency observation of disasters, based on the requirements of emergency agencies and other key users attending the APRSAF meetings, it was identified that as a top priority the Sentinel Asia Project should emphasize implementation of satellite-data production systems for wildfire, flooding and glacier lake outburst flood information, while other application fields should be developed offline by relevant research bodies and implemented subsequently. A key component of this plan is to include a dedicated 'node' in the Asian Disaster Reduction Center (ADRC), as well as to foster close interactions with related global data dissemination initiatives such as GEONetcast, and those promoted by the IGOS Geohazards Theme, GOFC-GOLD, WMO-RARS and CEOS. For wildfire monitoring, MODIS (NASA) data are utilized initially, and for flood monitoring TRMM, GPM (NASA, JAXA) and AMSR-E (NASA, JAXA) are expected to be used.
Capacity building for utilization of satellite image/data for disaster management - In parallel with the activities above, capacity building for technical and emergency-response agencies users of the Sentinel Asia system will be undertaken, primarily under coordination by Indian Space Research Organisation (ISRO), Asian Institute of Technology (AIT) and UNESCAP in Bangkok.

Fast Sharing of Data
The vision for Sentinel Asia is that it will be a fundamental service distributing, (in near real-time where possible,) disaster-related data products/images in the Asia-Pacific region as follows:
Satellite imagery (and data permitted by data provider) provided by space organizations
value-added images with extraction of affected areas created from satellite data
On-site digital camera images
Wildfire hotspot and rainfall information derived from satellite data
Meteorological satellite information
Basic map data
(such as a 1:1.000.000 scale digital map provided by NGA (National Geospatial-Intelligence Agency) and LANDSAT images, which cover the entire Asia area)
Detailed regional digital maps contributed to the network by national mapping organizations, etc.
In addition, through its close links to the Asian Disaster Reduction Center (ADRC), additional information will be available such as:
Detailed disaster information
Regional social / economic data
Information-Sharing Platform

The Sentinel Asia Step2 system adopts the idea of local mirroring, and transfers data from a Japan Central Sever to users' local mirrored servers not only via Internet but also via a communication satellite, WINDS. By using the WINDS satellite, the Sentinel Asia Step2 system can transfer large amounts of data otherwise hard to transfer via Internet. It is expected that this leads to a richer utilization of Sentinel Asia in all user countries.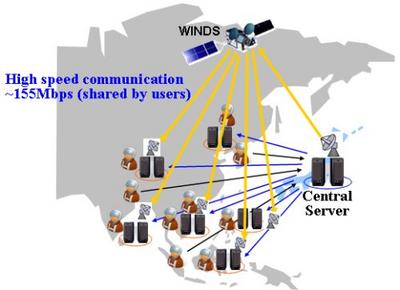 Framework
Sentinel Asia is promoted under cooperation among the following three communities: the Space Community (APRSAF); the International Community (UNESCAP, UNOOSA, ASEAN, AIT etc.); and the Disaster Reduction Community (ADRC and its member countries).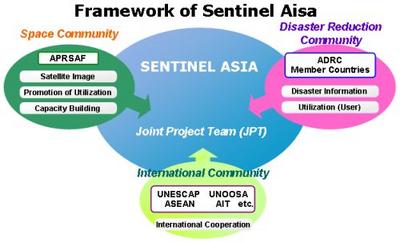 Source: Sentinel Asia webpage
For further information visit: Sentinel Asia