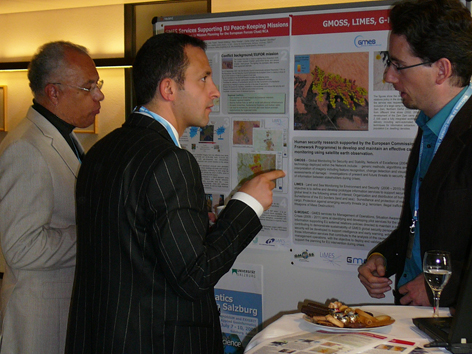 On Thursday, November 12, 2009 the workshop "Global Monitoring for Environment and Security GMES – exploring opportunities for cooperation with the United Nations" took place at the UN-Campus in Bonn. It was organised by bridge 2GEO – European Geoinformation Network, the United Nations Office for Outer Space Affairs (UNOOSA) and the City of Bonn. Its purpose was to strengthen cooperation between the geospatial community and the United Nations. The Workshop was attended by members of six UN agencies seated in Bonn who sought to establish and deepen working relations with experts from industry and research institutions.
The GMES program was initiated by the European Commission and the European Space Agency in order to develop the European Earth observation capabilities. It fosters the development of new services and technologies including Earth observation, satellite communication, positioning technologies and Spatial Data Infrastructure. Bridge2GEO is a European Geoinformation Network where experts from industry and research join their expertise to develop reliable services for supporting disaster risk reduction, monitoring the stability of livelihoods, humanitarian assistance, environmental management, sustainable energy supply, food security and others. The network is implemented by partners from the regions of Bonn, Germany and Salzburg, Austria exploring the expertise of regional clusters.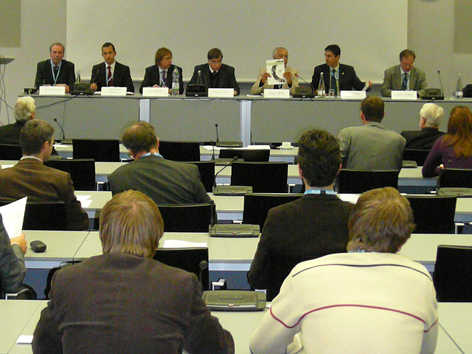 The plenary presentations of the workshop were given by Peter Zeil (Center for GeoInformatics, Salzburg University, Z_GIS) and Thomas Blaschke (iSPACE), who elaborated on the GMES policy framework and on the use of satellite technology for Environmental Monitoring and for Human Security and Emergency Response measures. An information market with posters about different research projects and case studies was displayed to give participants the chance to exchange experience and ideas and to explore cooperation opportunities. In the concluding panel discussion moderated by Peter Croll (CEO Bonn, International Center for Conversion, BICC) the following panelists presented the perspective of their organisation to the topic of the workshop: Lóránt Czárán (UN-SPIDER), Massimiliano Esposito (European Commission, Space Research & Development), Fabrice Renaud (UNU, Institute for Environment and Human Security), Konrad Vielhauer (GWSP, Global Water System Project), Florin Vladu (UNFCCC, United Nations Framework Convention on Climate Change) and Lars Wirkus (BICC). The day ended with a reception at the Old Town Hall, where the new Lord Mayor of Bonn, Juergen Nimptsch , addressed a welcome note to the participants emphasizing the strong relation between the City of Bonn and the United Nations.