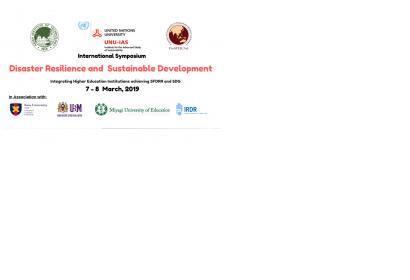 Asian Institute of Technology, ProSPER.Net, United Nations University - Institute of the Advanced Study of Sustainability (UNU-IAS)
Keio University, Miyagi University of Education, University Sains Malaysia, Integrated Research on Disaster Risk
Thu, Mar 7 - Fri, Mar 8 2019
The International Symposium on Disaster Resilience and Sustainable Development, taking place on 7 and 8 March, 2019 in Bangkok, aims at reinforcing the integration between the Natural- and the Social Science approach concerning the Sustainable Development Goals (SDG) and the Sendai Framework for Disaster Risk Reduction (SFDRR).
The Symposium is one of the initiatives of ProSPER.Net project "Disaster Resilience and Sustainable Development Education Network in Asia" lead by Asian Institute of Technology, Thailand along with the partner universities in the Asia Pacific Region.
During the two days of the programme, participants will engage in panel discussions, keynote speeches, technical sessions and academic exhibitions. The symposium will facilitate the exchange of knowledge between the participating researchers, practicioners and policy makers concerned with DRR, resilience and sustainable development. Moreover, the programme focuses on building regional synergies between higher educational institutions which focus on disaster research. Five thematic areas will be tackled throughout the programme.
Disaster Risk, Education and Communication
Sustainable Development and Resilience
Disaster Risk Science and Engineering
Trending Technologies in Natural Disaster Risk Reduction
Disaster Data Science and Management
Participants need to pay a registration fee; Early Bird tickets are available until 30 January, 2019.
Academicians, Scientists, Engineers, Research scholars, Students, Development Agencies, Practitioners, Policy Makers, Private Companies, Govt. and Non-Govt. Organizations
Asian Institute of Technology