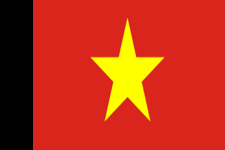 Decree No. 168-HDBT (May 19, 1990) of the Council of ministers established and outlined the tasks of the Central Committee of Storm and Flood Control (CCSFC), and committees and sectors at all levels (provincial, district and village).
At the Central level, the National Committee, an inter-ministerial institution serves as a coordinating body for disaster
reduction efforts in Vietnam. Its secretariat is provided by the Department of Dyke Management and Flood Control (DDMFC) of the Ministry of Agriculture and Rural Development (MARD). The CCSFC (Central Committee for Flood and Storm Control, Ministry of Agriculture & Rural Development) formulates all regulations and mitigation
measures related to typhoons and floods. Emphasis is on dike protection, surveillance and maintenance. Local emergency
work is coordinated by the provincial CSFC.