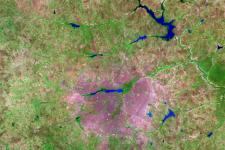 Since 2008, the UN‐SPIDER programme has provided expert support and conducted Technical Advisory Missions (TAMs) to Burkina Faso, Togo, Cameroon and Nigeria, upon request of the respective governments, to assess the access to and use of space‐based information for disaster management and emergency response. As a follow‐up support to the countries already benefiting from UN‐SPIDER assistance in the region, a training seminar was organized.
Host institution:
Title of training:
Training Seminar on space-based information
Trainers:
UN-SPIDER staff and trainers from the Regional Centre for Training in Aerospace Surveys (RECTAS)
Target group:
Training profile:
The French-language Seminar was divided into a one‐day high‐level awareness‐raising segment and a specialized training seminar for experts. The aim of the event was to raise awareness and institutionalize the use of for disaster risk management and emergency response in the region through training a network of professionals from different institutions and countries. Another goal was to establish an inter-institutional technical group as a way of further institutionalizing the use of space-based information for disaster risk management. Furthermore, a specialized segment focused on technical training on flood risk management.