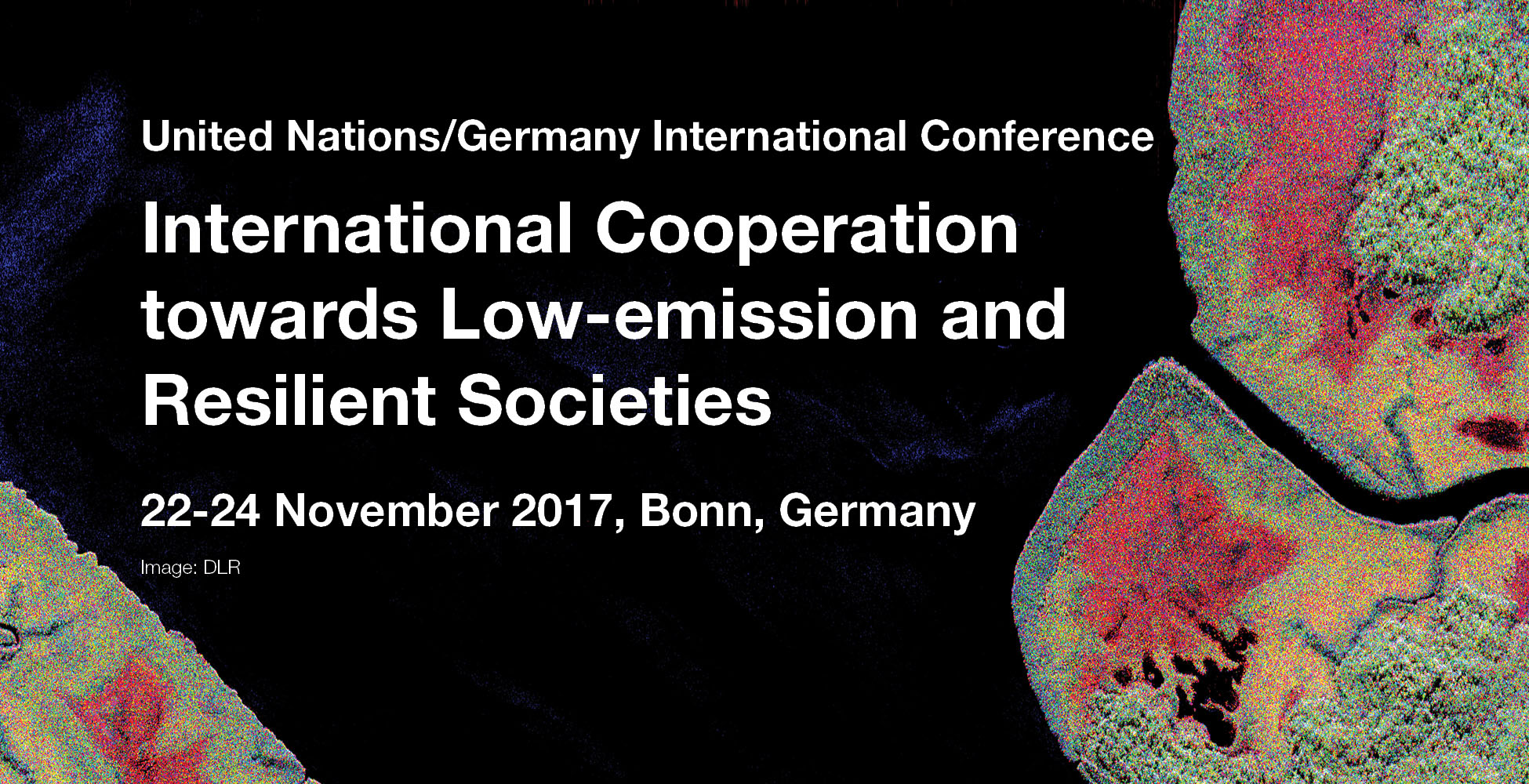 The United Nations/Germany International Conference on International Cooperation Towards Low-Emission and Resilient Societies will be held from 22 to 24 November 2017 in the UN Campus in Bonn, Germany. Participants will discuss ways in which existing
and future constellations of satellites can be used to contribute to the implementation of the Sendai Framework for Disaster Risk Reduction 2015-2030, the Sustainable Development Goals (SDGs) and the Paris Agreement.
The event is organized by the United Nations Office for Outer Space Affairs (UNOOSA) in cooperation with the German Aerospace Center (DLR) and the German Federal Ministry for Economic Affairs and Energy (BMWi).
Agenda
---




8.30-9.00
Registration
09.00-09.30
Opening Remarks

Lord Mayor Ashok Sridharan | City of Bonn
H.E. Ingrid Jung | German Federal Foreign Ministry
Hansjörg Dittus | German Aerospace Center
Simonetta di Pippo (video statement) | United Nations Office for Outer Space Affairs

09.30-10.30
Keynote presentations

Luc St-Pierre United Nations Office for Outer Space Affairs, on behalf of UNOOSA Director
Pascale Ehrenfreund German Aerospace Center

10.30-11.00
Coffee break
11.00-12.30
Panel of Space Agencies

Representatives of space agencies present their views on strategies to enhance the combined and complementary use of space technologies in climate change and disaster risk reduction efforts, as well as to contribute to the implementation
of the 2030 Agenda for Sustainable Development

Video statement by Simonetta di Pippo | United Nations Office for Outer Space Affairs

Introductory statement by Jean-Yves Le Gall | National Centre for Space Studies, France

Introductory statement by Roberto Battiston | Italian Space Agency

Pascale Ehrenfreund | German Aerospace Center
Isabelle Duvaux-Béchon | European Space Agency
Natalia Kussul | Ukrainian Space Agency
Alexandru Badea | Romanian Space Agency
Julio Cesar Castillo Urdapilleta | Mexican Space Agency

Moderated by Luc St-Pierre | United Nations Office for Outer Space Affairs

12.30-14.00
Lunch break
14.00-15.30
Session 1: Plenary presentations | The role of space technology applications for disaster risk reduction and climate change

Hansjörg Dittus | German Aerospace Center

Role of space technology applications for disaster risk reduction & climate change

David Stevens | United Nations Office for Disaster Risk Reduction

Space-based information and the Sendai Framework for Disaster Risk Reduction 2015-2030

Juliette Lambin | National Centre for Space Studies, France

Florin Vladu | United Nations Framework Convention on Climate Change

Moderated by Christian von Drachenfels | German Aerospace Center

15.30-16.00
Coffee break
16.00-18.00

Session 1: Working groups | The role of space technology applications for disaster risk reduction and climate change

Click working group title for presenters




Olena Dubovyk (Evidenz) | Centre for Remote Sensing of Land Surfaces (ZFL), University of Bonn
Nataliia Kussul | NASU-SSAU
Rahul Sengupta | UNISDR




Markus Enekel | SOS Children's Villages
Fabian Löw | Federal Office of Civil Protection and Disaster Assistance
Silvia Pardi | Federal University of Santa Maria




Jennifer Debrum | National Disaster Management Office
Francis Ohemeng | Ghana Irrigation Department
Danling Tang | South China Sea Institute of Oceanology, Chinese Academy of Sciences

18.30
Icebreaker hosted by the German Aerospace Center (29th floor, Langer Eugen)




09.00-9.40
Session 1: Plenary presentations of working group rapporteurs
09.40-10.30
Session 2: Plenary presentations | Networks, big data and integrated systems

Stefano Natali | MEEO Meteorological Environmental Earth Observation Company

eodataservice.org: Digital Earth platform to enable multi-disciplinary geospatial applications

Thomas Weissenberg | European Space Agency

ESA space applications for the three global agendas

Thomas Kemper | European Commission Joint Research Centre

"Big data and integrated systems" for the Agenda 2030 - Experiences from the Human Planet Initiative

Douglas Cripe | Group on Earth Observations (GEO)

Moderated by Juan Carlos Villagran | United Nations Office for Outer Space Affairs

10.30-11.00
Coffee break
11.00-12.30

Session 2: Working groups | Networks, big data and integrated systems.

Click working group title for presenters




Leonor Rodriguez | IGAC
Terrence Fernando | ThinkLab, University of Salford
Tania Lado Insua | Ocean Network Canada




Haris Kontoes / Iphegenia Keramitsoglu | National Observatory of Athens
James Adamu | Nigerian Meteorological Office
Eleonora Semakova | Uzbekistan Academy of Sciences Tashkent, Uzbekistan




Silvia Helden | Andean Committee for Disaster Prevention
Fatemeh Fereydooni | Iranian Space Agency
Yao Kiatchey | National Disaster Management Office Ghana

12.30-14.00
Lunch break
14.00-14.40
Session 2: Plenary presentations of working group rapporteurs
14.40-15.30

Session 3: Plenary presentations | Space-based systems for low-emission and resilient societies: The way forward.

Jens Danzeglocke | German Aerospace Center

Possible contributions of radar-based Earth observation to disaster risk reduction and climate adaptation

Shirish Ravan | United Nations Office for Outer Space Affairs

Athiye Jawad | Planet

Disaster Risk Reduction + Climate Change Monitoring + Sustainable Development: The insights economy through collaborations for today and tomorrow.

Moderated by Joachim Post | German Aerospace Center

15.30-16.00
Coffee break
16.00-18.00

Session 3: Working groups | Space-based systems for low-emission and resilient societies: The way forward.

Click working group title for presenters




Ahmed Farid | Telespazio
Isabelle Duvaux-Béchon | European Space Agency
Luisa Santoro | Italian Space Agency




Antje Hecheltjen | GIZ
Simone Sasse | Airbus Defence and Space
Simona Constanzo Sow | United Nations System Staff College (UNSSC)
Daniel Tsegai | United Nations Convention to Combat Desertification (UNCCD)




Lena Halounova | International Society for Photogrammetry and Remote Sensing
Julio Castillo | on behalf of Global Partnership Using Space-Based Technologies for Disaster Risk Reduction (GP-STAR)
Juan Carlos Villagran | UNOOSA
Christine Zeiser | Louise-Schroeder-Vocational-College, Wiesbaden

19.00
Reception by the City of Bonn, Old Townhall, Marktplatz




09.00-09.40
Session 3: Plenary presentations of working group rapporteurs
09.40-11.00
High-level Panel | International Cooperation towards Low-emission and Resilient Societies
Keynote statement

Gerd Gruppe | German Aerospace Center

Panelists

Florin Vladu | United Nations Framework Convention on Climate Change
Louise Baker | United Nations Convention to Combat Desertification
Ricardo Mena | United Nations Office for Disaster Risk Reduction
Patrick van Weerelt | United Nations System Staff College Knowledge Centre for Sustainable Development)
Fernando Belda | World Meteorological Organization

Moderated by Nicolas Peter | German Aerospace Agency

11.00-11.30
Coffee break
11.30-12.30
Key recommendations for TP6
12.30-13.00
Summary
13.00
End of the conference
Downloads: