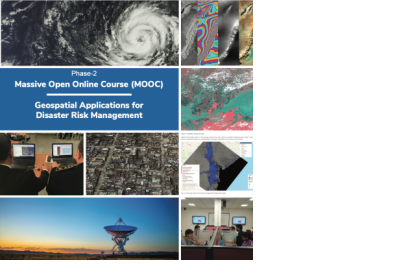 UN-SPIDER with the United Nations Office for Outer Space Affairs (UNOOSA)
The Centre for Space Science and Technology Education for Asia and the Pacific (affiliated to the United Nations)
Tue, Jun 1 - Sun, Aug 15 2021
The MOOC provides free and flexible online training to everyone who wishes to enhance their capabilities related to the use of geospatial and Earth observation technologies in disaster risk management.
Phase II of the Massive Open Online Course (MOOC) on the "Geospatial Applications for Disaster Risk Management" was launched on 1 June 2021 by the United Nations Office for Outer Space Affairs (through its UN-SPIDER programme) and the Centre for Space Science and Technology Education for Asia and the Pacific (Affiliated to the United Nations).
Phase II is a continuation of Phase I of the MOOC, which was launched in 2020.
Government officials and professionals, educators, university students and other stakeholders working in the field of disaster management