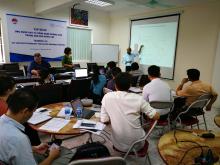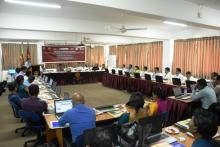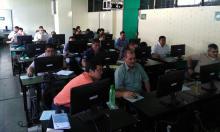 UN-SPIDER aims at ensuring all countries and international or regional organizations have the capacity to use all types of space-based information to support risk and disaster management efforts. To make sure that all interested stakeholders can benefit from this information in the most effective way possible, UN-SPIDER provides Technical Advisory Support to Member States through missions.
Upon request of a Member State, UN-SPIDER carries out missions with a team of internal or external experts to the host institution. The purpose of these missions is to jointly identify the existing national capacity to access and to use space-based information in the current institutional framework, in addition to shedding light on possible constraints and room for improvement. This support can take many forms depending on the needs and scope of the request; it can be a series of meetings, workshops or training sessions. There are three different types of advisory missions that UN-SPIDER carries out.
A Technical Advisory Mission (TAM) is conducted to identify the needs of a Member State regarding its capacity to fully take advantage of space-based information. As an inter-institutional fact-finding mission, it is officially requested by the respective national government and is carried out by a team of experts that UN-SPIDER gathers. Typically, TAMs are one-week long missions. In order to discuss the use of space-based information for risk and disaster management in depth and to subsequently make recommendations on improvements, the expert team meets with key disaster management and development authorities in the Government, United Nations organizations, regional and international organizations/initiatives, and private entrepreneurs.
With an Institutional Strengthening Mission (ISM), UN-SPIDER assists a Member State in increasing its capacity to benefit from space-based information for risk and disaster management. ISMs are usually carried out by experts from UN-SPIDER and may include, depending on the situation, experts from other institutions including the UN-SPIDER Regional Support Offices. Mission activities can include training personnel or facilitating access to space-derived data. UN-SPIDER also facilitates inter-institutional workshops for policy and strategy design leading to the more effective use of geospatial data. Such workshops can also lead to the set up of geospatial infrastructures; allowing institutions to more easily access and share data and information. Usually, ISMs are followed up on the recommendations of a UN-SPIDER Technical Advisory Mission.
Expert Missions are short-term and exploratory in nature. As opposed to TAMs which are inter-institutionally formatted, an EM usually consists of one UN-SPIDER expert meeting, with representatives of one or more institutions. This expert is in most cases a UN-SPIDER member of staff. EMs can range from a solitary meeting, with the prospect of being extended into a consultation period spanning over several days, where specific topics are discussed in further detail. Usually, EMs serve to explore the possibilities of conducting a TAM, but they can subsequently be carried out as a follow-up activity to such a TAM also.
---