UNOSAT is the Operational Satellite Applications Programme of the United Nations Institute for Training and Research (UNITAR). Created in 2001, it has become a UN knowledge centre, promoting evidence-based decision making for peace, security and resilience using geo-spatial information technologies.  UNOSAT's mission is to provide Member States, UN agencies, non-governmental organizations and international organizations with coordinated geo-spatial analysis and develop capacities for geo-information technology towards achieving the SDGs. Operational since 2003, the UNOSAT Humanitarian Rapid Mapping service offers a 24/7 year-round availability to process requests from humanitarian actors and to deliver satellite imagery derived analysis, maps, reports, and ready to use data following sudden onset disaster events and conflict situations.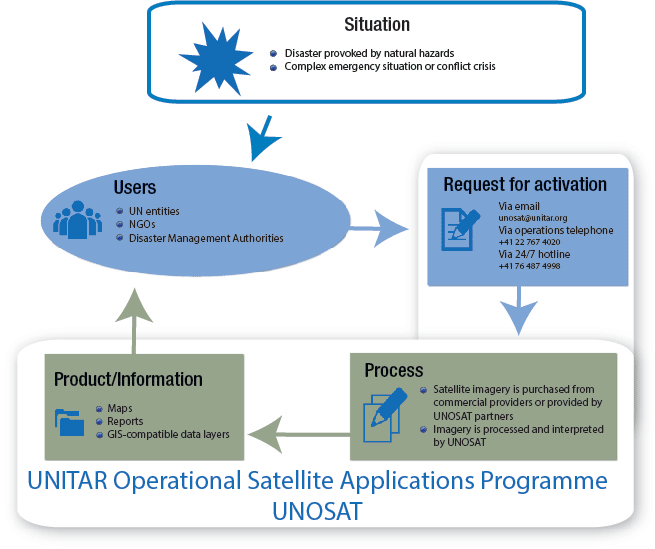 Users
UN Member States, UN agencies, Red Cross and Red Crescent Movement (ICRC and IFRC),; International and regional organizations and humanitarian Non-Governmental Organizations (NGOs).
Conditions for Activation
UNOSAT's Emergency Mapping is a 24/7 on-call service available to humanitarian relief agencies and national disaster management authorities. It can be activated in the case of disasters provoked by natural hazards, complex emergency situations or conflicts. 
Request/Point of Contact
For humanitarian emergencies please email emergencymapping [at] unosat.org or reach the 24/7 hotline (+41 75 411 4998).
Process
Upon reception, UNOSAT assesses the request. When the Emergency Mapping Service is activated, a production plan is shared with the requesting entity within hours. Suitable satellite imagery is immediately acquired by UNOSAT from various sources including feely available data and data supplied by commercial providers. The imagery is then processed by UNOSAT to elaborate the geospatial analysis.
Products/Information
The service provides wide and timely distribution of rapid mapping products that includes maps, web-maps, analytical reports and geographical datasets to support evidence-based operational planning and decision making of humanitarian actors in the field and at headquarters levels, at no cost to the user.  All non-sensitive products are made available on UNOSAT's websites and various platforms.