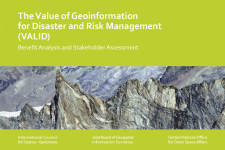 The VALID report is a follow-up publication to the Joint Board of Geospatial Information Societies (JBGIS) and UNOOSA/UN-SPIDER published 'Geoinformation for Disaster and Risk Management – Examples and Best Practices', a compilation of case studies that provides information on what can be done with geoinformation in support of disaster
and risk management – methods, systems, applications, experiences. It analyses cases and offers an expert stakeholder assessment.
On 3 September 2013, the report was launched by UNOOSA at the Vienna International Centre.
Download the publication (9.85 Mb)
Issue Date:
Tuesday, September 3, 2013