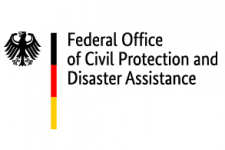 The Federal Office of Civil Protection and Disaster Assistance (BBK) was established on 1st May 2004 within the remit of the Federal Ministry of the Interior. Germany now has a central organisational element working to ensure the safety of the population, combining and providing all relevant tasks and information in a single place.
The work of the Office includes carrying out the tasks of the Federation with regard to civil protection (previously: "civil defence", in particular supplementary civil protection, health-protection measures, protection of cultural property, emergency
drinking water supplies), planning and preparation of measures to provide emergency supplies and carry out emergency planning, planning and preparation of cooperation between the Federation and the Länder with regard to special hazards (coordination of crisis management), planning/conceptual prevention
for the protection of critical infrastructures, basic and further training, and training in civil protection and disaster
relief, disaster medicine, alerting and informing the population, expansion of research into civil protection, in particular research into NBC hazards, enhancing citizens' ability to help themselves, conceptual and planning tasks in the area of international cooperation with the participation of all national civil defence agencies.