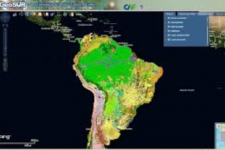 GeoSUR is a program of the Andean Development Corporation established in 2007, which aims the establishment of a decentralized network to diffuse geographic information of South America. This objective will be achieved through the most recent space-based technologies.
GeoSur provides the access to geospatial data
, geographic information and national or regional interactive maps of South America in order to extend the geographical knowledge of the American continent and to promote the development in the region.
Website www.geosur.info