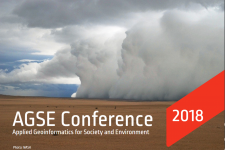 Applied Geoinformatics for Society and Environment (AGSE)
Mon, Nov 12 - Fri, Nov 16 2018
AGSE – Applied Geoinformatics for Society and Environment- was initiated in 2009 by Prof. Franz-Josef Behr. Taking place on a yearly basis, the conference is being held in different places all over the world.
The overall scope of this conferences is to offer an interdisciplinary, international forum for sharing knowledge about the science and application of Geoinformatics with focus on developing countries.
AGSE 2018 THEME is Mother Earth: Geoscience for Crisis
Management ,
Disaster Management, Human Food Security, Land Management, Contribution of Geospatial Science and Technologies.
Namibia University of Science and Technology (NUST), Windhoek, Namibia