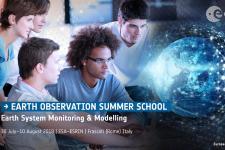 Fri, Aug 3 - Fri, Aug 10 2018
The European Space Agency is currently holding its bi-annual summer school on remote sensing and earth system modelling. 
From 30 July to 10 August the lectures can be followed live. 
Topics include but are not limited too:  "Sea level rise from space", "Monitoring the water cycle over land: water bodies and soil moisture", "The role of the global carbon cycle in the Earth System" amd "Combining models and dat to quantigy the terrestrial carbon cycle".
In the afternoons, practical sessions are available on the Sentinel Application Plattform (SNAP), the Ocean Virtual Lab (OVL) and the Earth System Data Lab (ESDL)  - a multi-variate data set of Earth System variables.