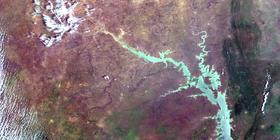 Martin Raitelhuber, UN-SPIDER
The mission included a meeting with the National Disaster Management Office (NADMO) and was attended by representatives from NASRDA's (UN-SPIDER RSO in Nigeria), RECTAS, and the OCHA Regional Office for West Africa. At the meeting, the current status of use of space-based information at NADMO was discussed and possible next steps discussed, among them a visit of NADMO staff to NEMA/NASRDA or vice-versa, a technical advisory mission to Ghana, and a sub-regional workshop.
The mission allowed UN-SPIDER to establish contact with NADMO and to discuss potential ways to support this institution in the future. NADMO also benefitted from becoming aware of the UN-SPIDER programme, the activities it conducts and the type of technical advisory support that it can provide.