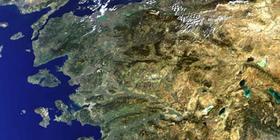 Yusuf S. Hascicek, UN-SPIDER.
The mission included several meetings with high ranking officers from Turksat to discuss issues related to the potential RSO, with the Rector of Akdeniz University and with the Director General of Antalya TecknoPark regarding the organization of a Western-Asia Cooperation Meeting together with Akdeniz University.
The mission allowed UN-SPIDER to strengthen its links with Turksat, with Akdeniz University and with Antalya TecknoPark. The mission also allowed UN-SPIDER to continue discussions on the proposal for Turksat to establish a Regional Support Office and for Turksat and Akdeniz University to co-organize with UN-SPIDER the tentative Western-Asia Cooperation Meeting.