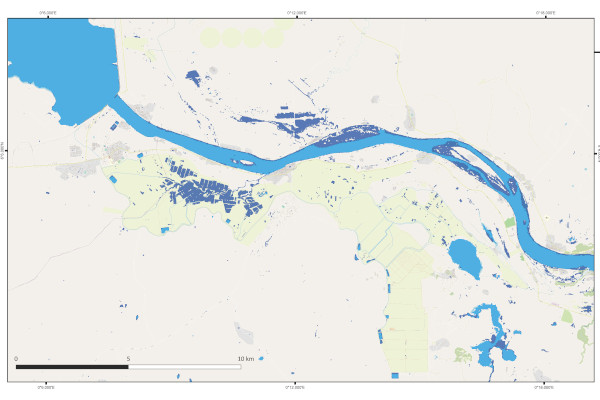 Over 4,000 residents in Ghana's south eastern region have been forced to abandon their homes due to widespread flooding. The crisis has been triggered by the overflowing of the Akosombo Dam, resulting in the devastating destruction of homes and farmlands along the banks of the River Volta.
The deluge has led to the disruption of essential services, leaving some areas without access to water and electricity. Ghana's Volta River Authority had previously asked residents to move to higher ground as water levels upstream of the dam continued to rise due to heavy rains.
UNOOSA/UN-SPIDER requested the activation of the International Charter Space and Major Disasters on behalf of the National Disaster Management Organization (NADMO) of Ghana and served as a Valued Added Provider. As Project Manager the National Space Research and Development Agency (NASRDA) of Nigeria, a UN-SPIDER Regional Support Office, was nominated.
| Organization | Title | Product type | URL |
| --- | --- | --- | --- |
| International Charter Space and Major Disasters | Activation 844: Flooding in Ghana | Maps | URL |