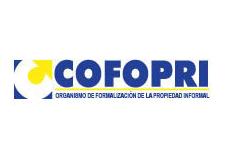 The Formalization of Informal Property (COFOPRI) is an agency attached to the Ministry of Housing, Construction and Sanitation of Peru of Peru. Its purpose is to execute the formalization of the property through titling processes. Its headquarters are the city of Lima.
Functions:
To know and resolve in the second and last administrative instance the processes related to conflicts, controversies, declarations, determinations of better right, legal or de facto uncertainty, related to the powers of formalization of the property assigned to the entity, according to the administrative procedures that govern the exercise of the powers of the entity.
To know and resolve the challenges presented by the interested parties regarding the acts, decisions and resolutions of the line bodies and deconcentrated bodies of the entity.
Adopt the agreements that are necessary for its better development and operation.
Establish precedents of mandatory observance, as long as said interpretation is not modified by a decision duly motivated by the Court; in the particular cases that it knows, when it interprets in an express way and with a general character the meaning of the applicable legislation.
Request information from any public body.
Appointing, suspending, removing or dismissing the President and Vice President of the Court.
Propose to the Executive Directorate the approval of procedural order directives.