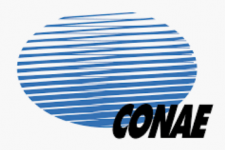 CONAE (Comisión Nacional de Actividades Espaciales), is the national space agency of Argentina and has a mandate to design, manage and execute space-related projects and activities for peaceful purposes, under the scope of the Ministry of Foreign Affairs and Worship.
CONAE's actions and projects are developed according to the National Space Program which is periodically updated and extended to ensure that suits the socioeconomic and productive requirements of the country. The 2004-2015 issue of the Program is in force and currently a new revision of is being developed for the period 2013-2024.
Argentina´s Space Program includes three satellite series: SAC, SAOCOM and SARE. Since its creation CONAE has placed in orbit 4 satellites: SAC-B, SAC-A, SAC-C and SAC-D/Aquarius.
The latter, launched on June 10th 2011, is an observatory for ocean, climate and environmental monitoring. The mission´s primary goal is to estimate sea-surface salinity and also several oceanic, atmospheric and land geophysical parameters. The satellite is equipped with eight instruments, including contributions from NASA/JPL, ASI, CNES and CSA.
The SAOCOM 1A spacecraft is currently under construction and also SAOCOM 1B. SAC-E/SABIAMAR and SARE satellites are foreseen to be developed in the next few years. All CONAE's missions are operated from the Agency´s Space Center in the province of Córdoba.
CONAE has organized and supported many activities in the region to foster the use of space information in disaster management, health applications, land use, and monitoring of environmental and productive activities, among other capacity building activities.
The Space Center is also home to the Mario Gulich Institute for Advanced Space Studies.
CONAE also hosts one of UN-SPIDER's Regional Support Offices.
Contact:
Comisión Nacional de Actividades Espaciales, CONAE
Av. Paseo Colón 751
CP: 1063ACH
Ciudad Autónoma de Buenos Aires, Argentina
Tel: +54-11-4331-0074
Fax: +54-11-4331-3446
rso-unspider [at] conae.gov.ar