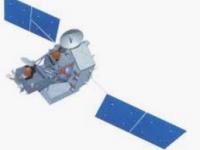 TRMM was a research satellite in operation from 1997 to 2015, designed to improve our understanding of the distribution and variability of precipitation within the tropics as part of the water cycle in the current climate system. By covering the tropical and sub-tropical regions of the Earth, TRMM provided much needed information on rainfall and its associated heat release that helps to power the global atmospheric circulation that shapes both weather and climate.
The TRMM Microwave Imager (TMI) measured microwave energy emitted by the Earth and its atmosphere to quantify the water vapor, the cloud water, and the rainfall intensity in the atmosphere.
TRMM officially ended on April 15, 2015 after the spacecraft depleted its fuel reserves. TRMM was turned off and re-entered Earth's atmosphere on June 15, 2015 over the South Indian Ocean. Originally designed for 3 years, TRMM continued to provide groundbreaking 3-D images of rain and storms for 17 years.
Technical specification:
Public Private Partnership:
Provider web page about satellite: