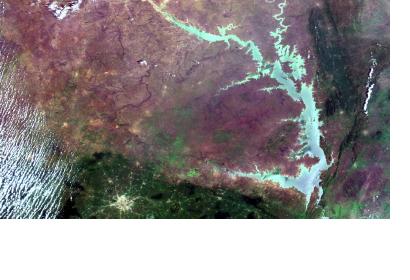 United Nations Office for Outer Space Affairs (UNOOSA)
Government of Ghana
Prince Sultan Bin Abdulaziz International Prize for Water (PSIPW)
Tue, 10 May - Fri, 13 May 2022

Introduction
The United Nations Office for Outer Space Affairs (UNOOSA) and the Government of Ghana are jointly organizing a Conference with the support of the Prince Sultan Bin Abdulaziz International Prize for Water (PSIPW) to promote the use of space technology in water management to the benefit of developing countries.
The Conference will be held in Accra, Ghana, from 10- 13 May 2022, hosted by the University of Energy and Natural Resources on behalf of the Government of Ghana.
The Conference is the fifth international event focusing on applications of space technology for water in the series of conferences organised with financial assistance of the PSIPW and the Inter-Islamic Network on Space Sciences and Technology (ISNET). The initial event, on the use of space technology for water management, took place in Riyadh, Saudi Arabia, in April 2008, the second conference was organized in March 2011 in Buenos Aires, Argentina, the third conference in Rabat, Morocco in April 2014 and the fourth in Islamabad, Pakistan in February-March 2018.
Background
Water scarcity and water quality degradation interrelate in the major challenge to secure water of good-enough quality to meet human, environmental, social, and economic needs. According to UNESCO (2020), widespread water quality degradation across the world is the most serious water problem. Three in ten people lack access to safely managed drinking water services; water scarcity affects more than 40 per cent of the global population and is projected to rise. Over 1.7 billion people are currently living in river basins where water use exceeds recharge. Among the challenges to water security are climate change (extreme weather such as floods and droughts among others), an increase in population, increase in water consumption due to domestic use, agriculture, and industry. Pollution also adds to water stress. Water is very closely related to the prevention of disease outbreak, but also a factor that can spread diseases further. In addition, groundwater resources, providing for 30 % of Earth's freshwater resources as well as for better protection against drought and microbiological contamination than surface waters, have been rapidly depleted in recent years; this poses a major threat to global water security, agriculture, energy production and global peace.
In the context of space-based technologies for disaster management and emergency response, the conference includes themes that address floods and droughts.
Deadlines
Submission of applications and abstracts: 25 February 2022
Registration for attendance on-site: 31 March 2022
Registration for online participation: 30 April 2022
More information can be found on the site of the conference (Link).
Decision-makers, technical experts, researchers and educators drawn from the following groups: international, regional, national and local institutions, academic institutions, multi-lateral and bi-lateral development agencies, non-governmental organizations (NGOs) and also from private industry.
Movenpick Ambassador Hotel Accra