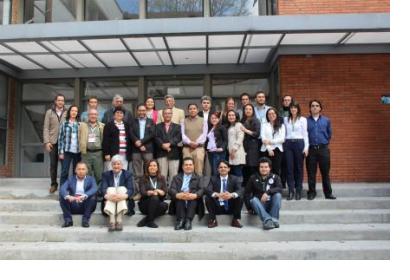 Mon, 10 Aug - Fri, 14 Aug 2015
In recent years, Central American countries have been facing more severe and frequent droughts. Every two years IGAC conducts an international conference entitled "Semana Geomatica Internacional." This year, IGAC celebrated its 80th anniversary of its establishment and the SM was invited to attend the event and to give a presentation regarding the UN-SPIDER programme. The UN-SPIDER used this opportunity to co-organize with IGAC a Regional Expert Meeting bringing together experts from the Caribbean, Central America, Ecuador, Brazil and Colombia.
The expert meeting included presentations, discussion sessions and three training session on step-by-step procedures to process satellite imagery as a way to generate relevant maps applicable in case of droughts and floods. The UN-SPIDER has advanced in its efforts related to the provision of Technical Advisory Support (TAS) in Central America and the Dominican Republic and also in implementation and fund seeking for the SEWS-D Project. The regional expert meeting allowed for discussion and agreement on subsequent activities to be conducted in Dominican Republic, Honduras, and Guatemala; as well as subsequent activities to be conducted by the partners of the SEWS-D project (IGAC, CRECTEALC, UFSM, CIIFEN, and CAC).
Staff members of government agencies of Central American countries, Dominican Republic and Colombia. Staff members of regional organisations of Central and South America.
Agustin Codazzi Geographic Institute (IGAC)