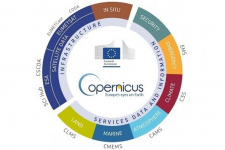 European Association of Remote Sensing Laboratories (EARSeL)
Sun, Jun 23 - Thu, Jul 4 2019
The Copernicus for Digital Earth Summer School 2019 is organized by University of Salzburg, Department of Geoinformatics (Z_GIS) – UNIGIS and CopHub.AC – co-organized by the European Association of Remote Sensing Laboratories (EARSeL), and supported by ESA and GEO and will be held in Salzburg, Austria, June 23 – July 4, 2019.
The vision of digital earth intends to help understand the Earth system by monitoring parameters and phenomena relevant to human society. The concept encompasses as an integral part advanced measuring technologies and transformations we are facing in their use, e.g. by the way how massive ('big') data, including satellite-borne data, are exploited and delivered in near real-time to users in highly integrated information products.
This Summer School will explore the potential of freely available satellite data and derived information products. The focus is on the European Earth observation programme Copernicus and its various service domains atmosphere, marine, and land monitoring, as well as climate change, emergency management and human security.
The registration fee is € 550; for active UNIGIS Students and ClubUNIGIS members: € 450
Graduate students and young professionals / academics The Summer School will address its topic on a moderately advanced level, with a prerequisite basic understanding of Earth observation/remote sensing.
University in Salzburg, Austria,