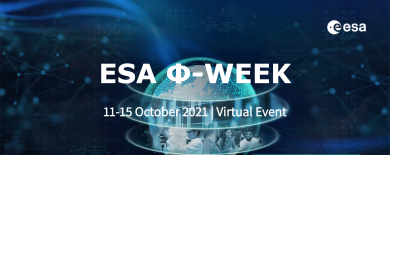 The European Space Agency (ESA)
Mon, Oct 11 - Fri, Oct 15 2021
The European Space Agency is hosting the fourth edition of the Earth Observation Phi-Week from 11 to 15 October 2021.
The focus of the event is how to accelerate the future of Earth Observation, presenting recent developments in EO Open Science and latest trends in EO markets, exploring bold and transformative ideas that ESA's Phi-lab and Data Applications Division supports and scales up along with researchers, start-ups, industry and private investors.
The main theme of Phi-Week 2021 is the New Space economy and associated innovations, highlighting how the New Space economy is developing in Europe and alongside competition worldwide, and how it can contribute to the EU Green Deal, Digital Europe Programme, Destination Earth initiative, UN SDGs, and in general to the EU Space Strategy and European space sector.
The objectives of Phi-Week are as follows:
Explore new applications of transformative technologies affecting New Space EO economy, science innovation, missions and services
Support the EO community of European start-ups, New Space operators, investors, ICT players, EO world leaders, ESA, Member States and the EC to connect and propose their view on the future of EO
Inspire early-career scientists, entrepreneurs, venture capitalists, citizens and dreamers by gathering and merging EO communities
Partner with new players by fostering new collaboration across disciplines
To attend, please register here.