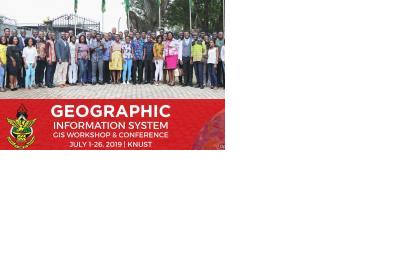 Kwame Nkrumah University of Science and Technology
Sam Houston State Univeristy
Wed, 1 Jul - Fri, 31 Jul 2020
On behalf of the Organizing Committee, it is a great pleasure to welcome geospatial users, analyst, and developers to KNUST, Kumasi for the 2nd Geospatial User Conference. A forum to foster the progress in the field of science and technology of location data, through contributions from your expertise to what promises to be an exciting meeting of learning, networking and collaboration. The 2020 Geospatial User Conference is a three-day event which will be held jointly with the International Conference on Geography and Development (INCOGaD-2020) on 29-31 July, 2020 on the theme, "geospatial applications in development". The meeting will host plenary speakers, keynote speakers, in addition to technical presentations and workshops, thus creating a platform for sharing, exchanging and exploring new avenues of Geospatial Science and Technology, and related research and latest developments. We hope that Geospatial User Conference-2020 serve as an innovative platform for creating new opportunities and establishing new collaborations.
Students, academics, scientists, social scientists, engineers, planners, architects, and professionals. No prior experience in GIS, Remote Sensing or other locational technologies is required.
UITS Computer Lab, Main Library, KNUST, Kumasi, Ghana.