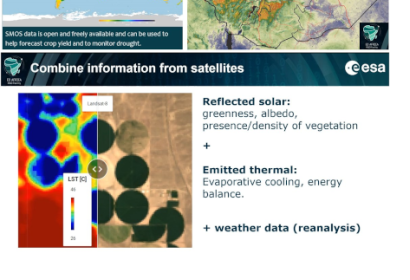 Wed, 3 May 2023 - Sun, 28 Jan 2024
The MOOC on Drought Assessment and Monitoring from Space (2nd version) has been launched by the EO Africa R&D Facility and will be available online until the end of February 2024.
This MOOC provides an introduction to "Droughts", answers questions on how it can be quantified, how it can be assessed and monitored from space. The role of cloud computing and (easy) access to satellite will also get attention. No prior knowledge to Earth Observation (EO) is required. The MOOC provides a "smooth" introduction for agricultural scientists, water resources specialists and others who are interested in water and food security and the role EO plays nowadays related to this theme. .
The following topics will be covered in the MOOC:
Vegetation and Drought Monitoring from Space
Copernicus Programme, Sentinel satellites
Jupyter notebooks and cloud computing
EO software tools
EO based information for vegetation and drought monitoring
Observing the water cycle from space
Monitoring vegetation dynamics from space
ET from space
Soil moisture dynamics from space
Crop Monitoring and Yield estimation from space
To know more about the programme and learn how to register, click here.