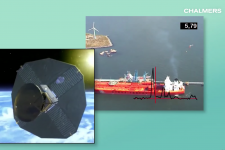 Chalmers University of Technology
In this course, participants will be taken on a virtual journey covering different Earth observation tools. The course modules cover the most crucial measurement tools for solid Earth, the atmosphere and the biosphere. Lecturers and experts will give participants first-hand insights why, where and how those techniques are applied and they will show how sensors work in space, on aircrafts and on the ground.
Participants will be given insights on how you can use data from various sensors to better understand our living planet and how it changes. Together with fellow learners all over the world, participants will conduct joined experiments that demonstrate how easy it is to sense the Earth's environment. On top of that, world-renowned experts will be interviewed.
Main learn objectives: 
How to measure solid earth, atmosphere and biosphere

How to judge the quality and reliability of earth observations

How to compare measurement tools

How we apply earth observations to better understand our planet