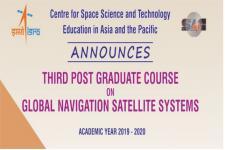 Centre for Space Science and Technology Education in Asia and the Pacific (CSSTEAP)
United Nations Office for Outer Space Affairs (UNOOSA), Space Applications Centre (SAC) of the Indian Space Research Organisation (ISRO)
Thu, Aug 1 2019 - Thu, Apr 30 2020
From 1 August 2019 to 30 April 2020, the third Postgraduate Course on Global Navitation Satellite System (GNSS) will take place at the Space Applications Centre (SAC) of the Indian Space Research Organisation in Dehradun, India.
The programme, among others courses, is organised by the Centre for Space Science and Technology Education in Asia and the Pacific (CSSTEAP). It is based on the premise to facilitate sustainable resource management in developing countries.
All of the post graduate courses organised by CSSTEAP are organized in two phases. Phase one consisting of two semesters, is conducted in India for 9 months and generally entails core modules with the emphasis lying on developing and enhancing knowledge and skills through classroom lectures, tutorials and hands on experiments. Each semester of the GNSS postgraduate programme covers specific areas of global and regional satellite navigation systems. Laboratory experiments and practical demonstration using GNSS simulators and receivers will be conducted in all the subjects, wherever applicable. At the end of Phase I, successful candidates are given a post graduate diploma by the centre. During phase two, returning students are expected to carry out an approved project in their home countries for a period of one year.
Read more about the CSSTEAP courses here. A booklet with further information about the programme can be accessed online.
University educators and researchers, professionals and specialists, navigation system managers, engineers and planners
Space Applications Centre, Indian Space Research Organisation, Department of Space, Govt. of India