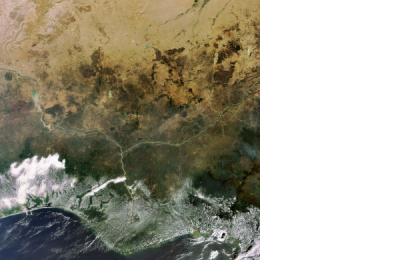 UN-SPIDER, NASRDA, NEMA, ZFL
Tue, 13 Apr - Thu, 15 Apr 2021
To continue efforts to make use of the opportunities made available by the space community, UN-SPIDER, NASRDA, NEMA and the Centre for Remote Sensing of Land Surfaces of the University of Bonn (ZFL) joined forces to carry out the UN-SPIDER/NASRDA/NEMA/ZFL National Virtual Expert Meeting on the use of Space-based Solutions for Disaster Risk Management and Emergency Response in Nigeria. The virtual expert meeting focused on the use of space technologies to improve disaster risk reduction in Nigeria. Specifically, the goal of the meeting was to contribute to the efforts conducted by NEMA in the area of disaster risk reduction, preparedness, early warning systems, disaster response and recovery efforts. Outcomesof this Expert Meeting included, but were not limited to:
Enhancing space-based disaster management efforts in Nigeria
Improving capacity to use earth observation data to manage disasters in Nigeria
Raising awareness of the activities being conducted by national disaster management agencies and UN-SPIDER in Nigeria and identifying ways and means to become engaged in these activities
To achieve these outcomes, the expert meeting included presentations by several Nigerian institutions and other regional and international organizations and discussion sessions to allow participants to agree on ways to enhance the use of space-based information, in complementary fashion with in-situ information, in disaster risk reduction, preparedness and disasters response efforts.
Presentations
Presenter
Organization
Title
Presentation
13 April, Session 1
Ajiboye Olatunde Jacob
National Emergency Management Agency (NEMA)
The Use of Space-based Information for Flood Management During 2020 Flood in Nigeria
Link
Godstime James
National Space Research and Development Agency (NASRDA)
Activities of the UN-SPIDER Regional Support Office in Nigeria
Link
Juan Carlos Villagran
/ Adrian Strauch
UN-SPIDER and ZFL
UN-SPIDER and ZFL Joint Activities
Link
14 April, Session 2
James Ijampy
Nigerian Meteorological Agency (NiMET)
The Role of NiMet in Disaster Risk Management
Link
Hadiza Aminu Tukur
Nigerian Hydrological Services Agency (NIHSA)
Nigerian Hydrological Services Agency's Efforts Towards Flood Mitigation
Link
Ganiy Agbaje
Center for Space Science and Technology Education in English, Nigeria
Multi-scale Flood Monitoring and Assessment Services for West Africa (MiFMASS)
Link
Juan Carlos Villagran
UNOOSA/UN-SPIDER
Pilot Project: Strengthening Early Warning Systems for Floods in Nigeria Using Space Technologies
Link
14 April, Session 2 Technical Segment
Ingrid Wong, Victor Hertel, Radu Botez
UNOOSA/UN-SPIDER
UN-SPIDER Recommended Practices for Exposure Mapping, Flood Hazard Mapping and Flood Mapping
Link
Radu Botez
UNOOSA/UN-SPIDER
Global Web-based Applications for Flood and Drought Monitoring and their Integration into Desktop GIS Software
Link
15 April, Session 3
Abel Egbeji
National Oil Spill Detection and Response Agency
Application of Space-based Solutions to Oil Spill Response and Management in Nigeria
Link
Ciro Farinelli
Airbus Defence & Space
Disaster Management using Digital Elevation Model and Weather Independent Earth Observation data (SAR)
Link
Nwanneka Ibekwe
National Space Research and Development Agency (NASRDA)
Inspiring and Empowering Women/Girls for Bridging the Divide: Activities of Women in Aerospace in Nigeria
Link
Recordings