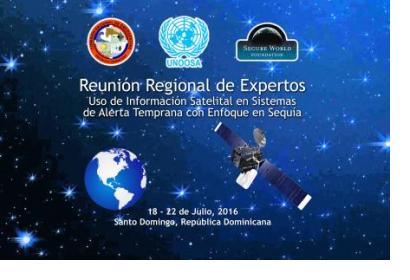 UN-SPIDER
National Emergency Commission of the Dominican Republic
Mon, 18 Jul - Tue, 19 Jul 2016
UN-SPIDER and the National Emergency Commission of the Dominican Republic conducted a regional expert meeting in Santo Domingo, Dominican Republic, with the support of Secure World Foundation on the use of space-based information in early warning systems for sroughts. The meeting, which was conducted on 18 and 19 July 2016, brought together nearly 70 experts from Brazil, Colombia, Dominican Republic, Ecuador, El Salvador, Guatemala, Honduras and Mexico; as well as from FAO, UNCCD, WFP, UNDP, CRECTEALC, CEPREDENAC and UNOOSA. It was inaugurated by Mrs Simonetta Di Pippo, Director of UNOOSA, and Mayor General Rafael de Luna Pichirilo, President of the National Emergency Commission of the Dominican Republic.
The expert meeting has contributed to the efforts conducted under the umbrella of the project entitled Strengthening Early Warning Systems for Drought (
SEWS-D
). The project aims to institutionalise and improve drought early warning systems through the routine generation and use of space-based information in combination with other types of information in countries of this region to contribute to the decision-making process regarding how to cope with the impacts of droughts. The expert meeting is aligned with two thematic priorities of the UNISPACE+50 conference: low-emission and resilient societies and capacity-building for the 21st century. Additoinal information on the UNISPACE+50 conference can be found
here
.
The meeting included a high level panel, technical presentations, group discussions and has allowed members of the SEWS-D project to agree on the plan of work for the period from August 2016 to July 2017. Experts taking part in the expert meeting also agreed on key recommendations to promote the use of space-based in on-going efforts in Latin America and the Caribbean in areas related to climate change, environmental management and disaster risk reduction; and for international, regional and national organizations to work together to address efforts related to drought early warning in a unified way.
Centro de Exportación e Inversión de la República Dominicana (CEI-RD), UN-SPIDER activity, regional expert meeting