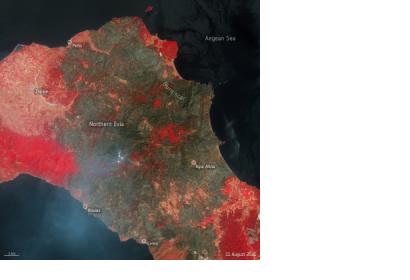 UN-SPIDER, ESA, Central European University (CEU), and Copernicus RUS
Thu, 18 Nov - Fri, 19 Nov 2021
The aim of the training course is to introduce students to the use of the RUS platform virtual machine to generate maps of the geographical extent of burned areas due to forest fires and floods with practical examples from recent events in Europe. It will give students enrolled in a Master´s programme an opportunity to experience working with satellite images for disaster management purposes.
The first part of the training course will demonstrate the burned area mapping methodology on the disastrous wildfires that occurred in the northern area of the Evia Island in Greece in August 2021 and you will learn the basics of image processing using various vegetation indexes and specific band ratios such as the Normalized Burn Ratio (NBR). The Sentinel-2 MSI data that will be used with 10m spatial resolution will help us assess the severity of this disastrous event.
The second part of the training course will demonstrate the flood mapping methodology on the disastrous event that occurred in June 2021 in Rhineland-Palatinate region in Germany, and you will learn the basics of Synthetic Aperture Radar (SAR) image processing for such natural disasters, using Sentinel 1 satellite images.
This training includes hands-on exercises, where you will access from your own laptop a Virtual Machine, to exploit the open source toolboxes available in the RUS environment to download and process the data.
Follow the training as an observer
The selection of participants for this training is now closed, and selected participants have been contacted.
However, there is also the opportunity to attend the training as an observer. An observer will be able to follow the demonstration of the exercises for both days (theoretical and practical parts), but without access to a virtual machine to repeat the exercises at their own pace.
If you want to join as an observer, please use this link: https://attendee.gotowebinar.com/register/5918299875920860939
The training will take place online on 18 and 19 November, 10.00-14.00 CET time.
Target Audience
Master's level students