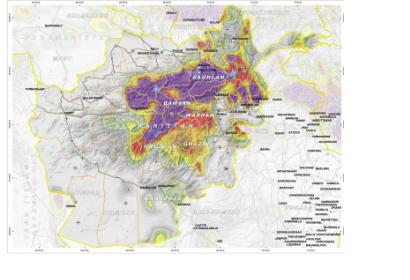 The Afghanistan National Disaster Management Authority (ANDMA) made an appeal for greater support for disaster risk reduction efforts in the country.
As UN-SPIDER reported, the International Charter: Space and Major Disasters was activated over the weekend due to mudslides in the Province Badahkshan. Officials expect the death toll to reach over 500 people, 4000 are displaced.
Environmental degradation and the proximity of villages to landslides-prone area were the major factors influencing the scope of the disaster. "What happened over the week end in Argu is a lesson learned for all of us who are working to reduce disaster risk," said Mohammad Ajmal Karimi, ANDMA's Deputy Director for International Relations.
Afghanistan is one of the high-risk countries in the world, facing many environmental hazards, but receiving disproportionally small share of aid to spend on disaster risk reduction. In 2011 13 countries, among them China, India, Iran, the Russian Federation, Turkey and the United Arab Emirates agreed on the Istanbul Process on Regional Security and Cooperation for Secure and Stable Afghanistan, which also included the "development of joint guidelines for cooperation in the field of disaster management".
UNISDR and other UN agencies are working together with ANDMA to support this process.