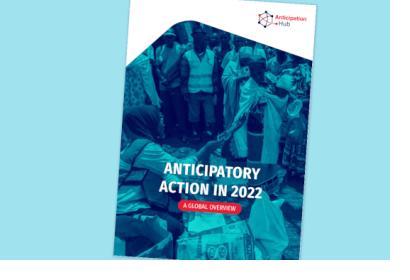 The Anticipation Hub has published this week the "Anticipatory Action in 2022: A Global Overview" annual report that captures for the first time the scale of anticipatory action worldwide. The report discusses how the scope of anticipatory action expanded in 2022, in terms of hazards, triggers in place, and anticipatory actions implemented. It also shows how 35 countries implemented anticipatory actions in 2022 and are ready to act ahead of forecast hazards. By using aggregated worldwide data, the report shows that:
- Through the 70 frameworks in place globally, 7.6 million people are now better prepared to act ahead of the predictable impacts of hazards, and able to recover more quickly afterwards.
- The financing committed through these frameworks in 2022 reached 138 million US dollars.
- 47 anticipatory action frameworks were activated in 2022, reaching 3.6 million people as a minimum estimate.
The Anticipatory Action in 2022: A Global Overview also presents five key areas for scaling up anticipatory action worldwide:
- Flexible, coordinated and predictable financing for anticipatory action
- Investment in early warning and preparedness capacities, especially at local levels
- Applying anticipatory action to a wider variety of hazards
- Collective larning, coordination and partnerships
- Mainstreaming anticipatory action into national disaster management systems
To read more on the anticipatory action frameworks in place, case studies used in the report, major milestones in 2022, or progress, gaps, and recommendations for the future, visit the Anticipation Hub website.
More about the Anticipation Hub
The Anticipation Hub is a platform that fafcilitates knowledge exchange, learning, guidance and advocacy around anticipatory action. The platform is hosted by the German Red Cross in cooperation with the International Federation of Red Cross and Red Crescent Societies (IFRC) and the Red Cross Red Crescent Climate Centre with funding from Germany's Federal Foreign Office. To know more about the Anticipation Hub, click here.