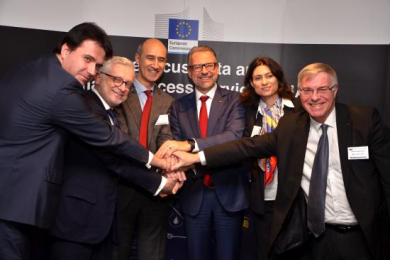 Atos activated its new Earth observation platform Mundi Web Services on 21 June 2018. The platform is already being used by several clients to evaluate and manage disaster risks.
On behalf of the European Commission and the European Space Agency (ESA), Atos created the Mundi platform to combine real-time geo data from Copernicus, the world's largest single Earth observation program, with data from multiple sources and turn it into an information platform for companies in sectors such as manufacturing, insurance, utilities, agriculture, forestry, urbanism and emergency services.
Mundi is one of the five DIAS (Copernicus Data and Information Access Services) cloud-based platforms, which was officially launched by the European Commission in June.
Mundi will make the data from the European Union constellation of Sentinel satellites and other data providers more accessible. This will enable third parties as diverse as industrial companies, national space agencies, SMEs and start-ups to build innovative business services based on satellite data. Through their ventures, they will strengthen the understanding of the impact of climate change, better manage and anticipate urban development, and improve the evaluation and management of natural disaster risks such as oil or gas spills.
Atos' use of satellite data combined with those of its partners is expected to bring speed, flexibility and robustness to the platform which is capable of handling vast amounts of data in different formats and thus increase disaster preparedness.
Apart from Atos, the consortium of the Mundi platform is also composed of DLR, e-Geos, EOX, GAF, Sinergise, Spacemetric, Thales Alenia Space and T-Systems.
Find out more about Copernicus DIAS
here
.