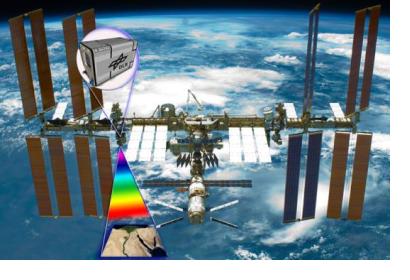 An Earth sensing imaging spectrometer which can monitor natural disasters such as wildfires, floods, and droughts through the scan of multiple bands of light was launched into space on 29 June.
The DLR Earth Sensing Imaging Spectrometer (DESIS) was developed by the German Aerospace Centre (DLR) in partnership with La Trobe University in Melbourne, Australia, and Teledyne Brown Engineering. DESIS is designed to provide hyperspectral data in order to monitor the environment and resources on Earth. In terms of monitoring natural phenomena, DESIS will be able to track wildfires, floods, ash clouds, storms, rainfall, and drought.
DESIS was launched into space on a SpaceX Falcon 9 rocket which lifted off from Cape Canaveral, Florida in the United States of America to undertake a three-day journey to the International Space Station (ISS).
After arriving at the ISS, DESIS will be prepared for use on the Multiple User System for Earth Sensing (MUSES) platform which hosts earth-viewing instruments such as high-resolution digital cameras and hyperspectral imagers while also providing precision pointing capability amongst other functions. The MUSES platform was positioned on board the ISS in 2017. Once DESIS is installed, DLR will become the first user of MUSES, transforming the ISS into a universal instrument platform. From their position on the ISS, DESIS and MUSES can point forwards, backwards and to the sides, allowing the instrument to respond with a great deal of agility. This enables an excellent degree of flexibility in response to environmental disasters or humanitarian crises through the rapid supply of near real-time information to emergency services and other national authorities. Such information can help rescue teams operating on the ground to organize their deployment.
DESIS will also be used to reveal changes to the ecosystems on the Earth's surface. Scientists can use the information acquired in this way to assess the condition of forests or farmlands and to forecast their yields. Another purpose of DESIS is to help secure and improve global food production.
DLR says that the MUSES platform is unique in that instruments on board the system can be replaced or updated continuously to accommodate new technical innovations. DESIS itself can be brought back to Earth after a service life of five to eight years, which will allow scientists to analyse the effects of the space environment on remote sensing instruments.
This article was contributed by Jack Kavanagh, UN Online Volunteer mobilized through www.onlinevolunteering.org.