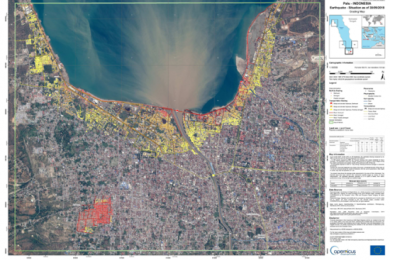 The International Charter "Space and Major Disasters" and the Copernicus Emergency Management Service Mapping have been activated on 29 September after a 7.5 magnitude earthquake in the central Indonesian Island of Sulawesi.
At least 844 people have been killed and 64,000 displaced according to reports.
The cities of Palu and Donggala are the worst affected areas by the earthquake and a tsunami with waves as high as six metres.
The International Charter was activated by the Asian Disaster Reduction Centre (ADRC) on behalf of the Indonesian National Institute of Aeronautics and Space (LAPAN). Both institutions are UN-SPIDER Regional Support Offices (RSO). Mapping products made available under the activation are available on the Charter's website.
The Copernicus Emergency Management Service - Mapping was activated by the Directorate-General for European Civil Protection and Humanitarian Aid Operations (DG ECHO). Mapping products developed as part of the activation are available on the Copernicus website.
Additional information, including situational bulletins, can be retrieved from ReliefWeb, an online platform for humanitarian information on global crises and disasters operated by the United Nations Office for the Coordination of Humanitarian Affairs.