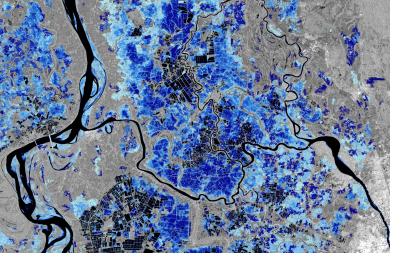 The Global Development Assistance Programme (GDA) of the European Space Agency (ESA) was started by ESA Member States at Space 19+ and has now officially kicked off its first action on Earth observation information development in the context of 'Disaster Resilience'. The programme aims to improve the systematic integration of Earth observation data in development projects and has reach its first milestone by kicking of this action.
According to the World Bank, more than a third of the world's poor live in areas affected by multiple types of natural hazards. Developing countries are facing an increased frequency and intensity of hazards, while at the same time often having substantial data gaps hindering decision-makers and development practitioners from making appropriate and necessary investments for risk reduction and mitigation.
The Global Development Assistance programmes's focus, in context of disaster resilience, is on hazard, exposure and vulnerability mapping in order to better meet International Financial Institutions' and development stakeholders' information requirements. To achieve this, ESA engages a consortium of nine European specialised Earth observation providers to partner with the World Bank and the Asian Development Bank, aiming to strengthen developing countries' disaster resilience.
As Christoph Aubrecht, (Global Development Assistance Programme Coordinater at ESA) explains, this is done by focusing on "knowledge development through the generation of new pre-operational technical products and services in direct response to requirements identified by the Development Banks, the Banks' clients and stakeholders in developing countries".
More specifically, developments are planned to enhance Earth observation products concerning both hydrometeorological hazards, geohazards and related risks. These activities are part of the new, joint Space for International Development Assistance Initiative (Space for IDA) set up by ESA in partnership with International Financial Institutions – namely the World Bank and the Asian Development Bank.
Image: ESA, contains modified Copernicus Sentinel data (2021), processed by LIST.