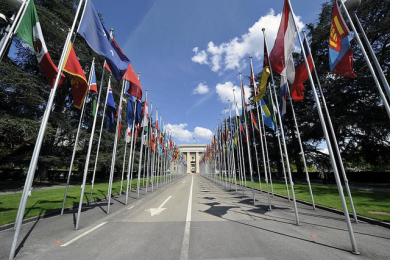 On 14 and 15 July 2014, Member States and major groups convened in Geneva, Switzerland for the First Session of the Preparatory Committee of Third United Nations World Conference on Disaster Risk Reduction (WCDRR) to provide clear guidance and inputs to what the post-2015 framework should look like. In March 2015, Member State delegations will come together during the WCDRR in Sendai, Japan, and will agree on a global post-2015 framework for disaster risk reduction.
The preparatory meeting in Geneva included a plenary session during which the United Nations Office for Disaster Risk Reduction (UNISDR) requested the endorsement of several planning documents related to the conference. Member States and regional and international organizations as well as other groups made official statements. Some of these statements included the explicit mention regarding access to and use of geospatial data as a way to track progress in disaster-risk reduction efforts. Parallel side events were conducted by UNISDR to gather feedback regarding the proposed indicators and for special groups to meet with the Chairs of the Conference.
The Preparatory Committee heard summaries of the work of the three technical workshop: on indicators, monitoring and review process for the post-2015 framework; on investing in disaster risk reduction; and on mutual reinforcement of disaster risk reduction, sustainable development goals, and climate change. At the end of the meeting, the Preparatory Committee also adopted its draft report.
Summaries of the opening statements by the Committee's Co-Chairs, the Special Representative of the Secretary-General for Disaster Risk Reduction, and the Acting Director-General of the United Nations Office at Geneva, as well as the first part of the discussion, are available online.
Ms Simonetta di Pippo, Director of UNOOSA, and Mr Juan Carlos Villagran, UN-SPIDER Programme Officer, participated in the Preparatory Committee Meeting in order to raise awareness on the importance of satellite-based information for the post-2015 framework for disaster risk reduction. They met with representatives of UNISDR and the Group on Earth Observations (GEO) as well as with representatives of the Governments of Bangladesh, the Dominican Republic, Germany and other Member States to continue planning an official side event during the WCDRR in partnership with international organizations, Space agencies and interested Member States.