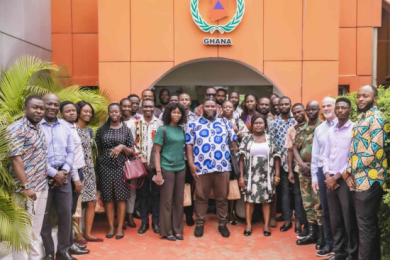 Ghana's National Disaster Management Organization (NADMO) is undertaking a new National Disaster Preparedness Baseline Assessment in collaboration with the University of Hawaii's Pacific Disaster Center (PDC). This new assessment responds to the initiative of further developing Ghana's risk reduction capacity concerning multiple hazards. As many other countries, Ghana is facing several forms of climate-related hazards whose effects are increasing steadily, such as devastating floods, landslides, droughts and coastal erosion.
The initial workshop for the assessment took place on March 19 in Accra, counting with the participation of more than 60 stakeholders from multiple sectors, where Ghana's Director General of NADMO expressed that "this workshop marks the inception of a yearlong process intended to unearth the challenges of disaster management and risk reduction in Ghana, while at the same time building capacity of key stakeholders on various digital and web-based tools like the DisasterAWARE platform".
The new National Disaster Preparedness Baseline Assessment will be crucial to identify key factors contributing to heightened disaster risk in Ghana and its importance for accelerating commitments to the UN Sendai Framework for Disaster Risk Reduction, as well as to the Sustainable Development Goals.
To know more about NADMO and PDC collaboration in Ghana's National Disaster Preparedness Baseline Assessment, click here.
Main image: NDPBA stakeholders © PDC