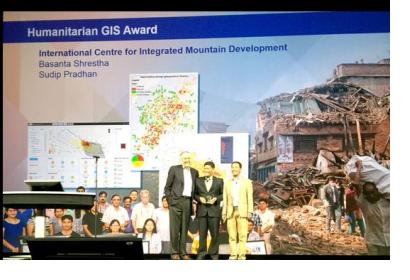 The International Centre for Integrated Mountain Development (ICIMOD), UN-SPIDER's Regional Support Office, has been awarded the "Humanitarian GIS Award" at the International User Conference, organized by the Environmental System Research Institute (Esri) in San Diego, California. ICIMOD deserved it due to its immediate involvement in the response efforts after the earthquake that struck Nepal between April and May 2015.
As soon as the temblors impacted the country, ICIMOD fielded special Task Forces on Geo-hazards and Geo-information to process and assess satellite data to assist relief and recovery operations. It developed the 'Nepal Earthquake 2015: Disaster Relief and Recovery Information Platform' (NDRRIP) in conjunction with Nepal's Ministry of Home Affairs and Esri. The platform is an information hub that gathers information from space agencies, UN organizations, donor agencies, academic and research organizations, relief organizations, local NGOs, private sector organizations, and civil society.
Moreover, ICIMOD and the Nepalese Government published a document that studies various strategic choices and options for developing resilient livelihoods and economic activities, entitled 'Strategic Framework for Resilient Livelihoods in Earthquake-Affected Areas of Nepal'.
"ICIMOD's resolve and tireless efforts in the face of such devastation truly inspire us. Their work has already had huge impact and they continue to drive relief and recovery efforts in Nepal", said Jack Dangermond , President of Esri. Basanta Shrestha, ICIMOD's Director of Strategic Cooperation who led the disaster response and received the Award on ICIMOD's behalf, stated that "the need of the hour was the delivery of timely, credible, and actionable data and information to support relief and recovery operations".