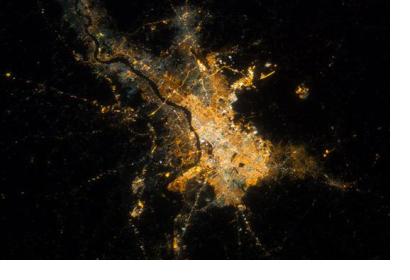 The Indian Space Research Organisation (ISRO) will map 500 cities in September this year. Urban planners' work is to be supported by this information and nearly 50 million people are expected to benefit from the outcome.
Satellite images are going to be used by the National Remote Sensing Centre (NRSC) to illustrate several features of cities with an average of 100 thousand inhabitants each.
The director of NRSC, V.K Dadwal, highlights the importance of the project for the future, done in cooperation with the Indian government: "the urban development ministry and Isro are working on a master plan formulation of these cities so that a vision document can be made on how the city is to be developed". The initiative is to support the Atal Mission for Rejuvenation and Urban Transformation (AMRUT), launched in June.
AMRUT aims to focus on water supply, sewerage, storm water drains, pedestrian facilities and public transport; as well as to improve amenities such as parks, other green spaces and recreation centers. Authorities intend to integrate the population and raise their voices during the process: "an integral element of this project is citizen involvement. As the master plans by town planners are put up on the Bhuvan portal, the public can participate and give feedback on land use for instance, or green spaces," said Y.V.N. Kirshnamurthy, scientific secretary, Isro.