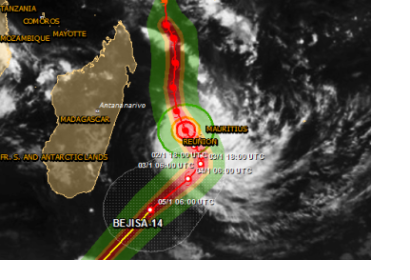 The International Charter Space and Major Disasters was activated to provide satellite imagery products to support emergency response to Tropical Cyclone Bejisa. Bejisa is expected to make landfall on the island La Réunion, one of France's overseas departments in the Indian Ocean. The Charter was activated on 1 January by Direction Générale de la Sécurité Civile et de la Gestion des Crises (COGIC).
Bejisa is the first Tropical Cyclone of this year and was the equivalent of a Category 3 on 2 January evening local time (morning EST) as it brushed the west coast of Réunion. It is expected to cause some minimal property damage and bring a storm surge of 2-4 metres along the coastal areas. According to AccuWeather, high winds and torrential rain have already inundated the island. Saint-Denis, located on the northern part of the island has already been swamped with over 175 mm (7 inches) of rain and wind gusts near 100 km/hour (62 mph). GDACS however estimates a maximum storm surge height of only 0.2 metres in Etang Sale, Reunion on Thursday evening local time.
The images and/or image products delivered under the Charter will be published on the Charter's website as soon as they become available.