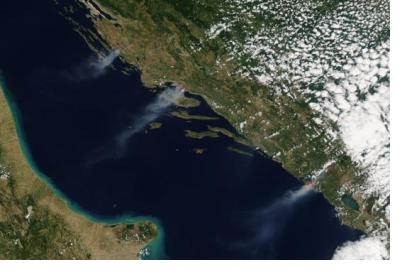 Montenegro faced a series of wildfires along the Adriatic coast in July 2017 due to the hot summer temperature and dry weather. Hundreds of tourists and residents have been evacuated from the Lustica peninsula.
Strong winds accompanying the hot summer and arid conditions fueled the fires to spread across Lustica peninsula and threatening the towns of Herceg Novi, Tivat and the capital Podgorica.
On 17 July, the Montenegrin government asked for international aid and firefighting planes were provided to contain the blaze and prevent it from spreading any further. The International Charter was activated on 25 July 2017 on a request made by U.S. Geological Survey on behalf of Sector for Information System, Real Estate Administration - Montenegro.
Other space-based information products related to the forest fires are listed below: