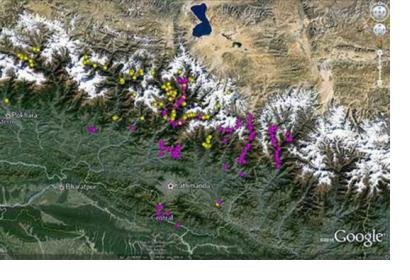 The International Centre for Integrated Mountain Development (ICIMOD), the National Aerospace and Space Administration (NASA), the University of Arizona, and collaborators have coordinated an international volunteer team to map and assess natural hazards in order to prevent future disasters after the magnitude 7.8 earthquake struck Nepal on 25 April 2015 and caused large loss of life and property.
The NASA-U.S.Geological Survey-Interagency Volunteer Earthquake Response Team, counting over 40 volunteers from eight different countries, together with the British Geological Survey-Durham University-Earthquakes without Frontiers team use high-resolution satellite imagery provided by government and private sector agencies, as well as by international groups such as the International Charter: Space and Major Disasters.
The technologies available for the volunteer team allow them to identify landslides that have affected villages and to assess risks of flooding, rockfalls and avalanches, among other uses.
"The landslide database will be continually updated with new information from these teams as well as colleagues in the Chinese Academy of Sciences, and shared with local governments and agencies coordinating the delivery of aid and assistance," ICIMOD informed.