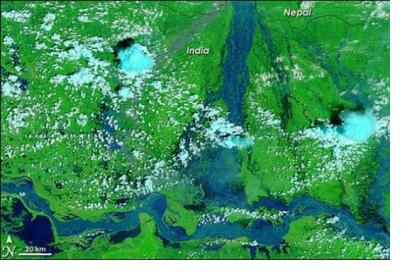 The International Water Management Institute, UN-SPIDER's regional Support Office, organised together with the CGIAR research program on Climate Change, Agriculture and Food Security (CCAFS) a day long workshop in Patna, India, to present a new project on the development of the Index‐Based Flood Insurance (IBFI) on August 1.
Due to the constant floods India is facing every year and the huge losses these events produce, the IBFI project aims to implement the use of space technologies such as remote sensing images and geographic information systems (GIS) in order to improve the insurance's payout processes. Along with flood hazard models, these technologies can help developing reliable flood parameters for insurances, speed the compensation and therefore reduce harms for low-income communities from flood prone areas.
"Through this project we want to increase the agriculture resilience of the vulnerable farmers in flood prone regions. This is a first of its kind attempt at such a large scale, we are hoping that this project will lead the way for more effective catastrophe insurance in a natural disaster prone region" Said Giriraj Amarnath, Project Leader and Senior Researcher at IWMI.
The workshop served to inform present stakeholders - which were, among others, representatives from State and Central government agencies, NGOs, private insurance companies, farmers and development partners - about the implementation of the project in flood prone areas in the Ganges-Brahmaputra-Meghna basin.
Bihar, India, is at the focus of the project, as it is the most flood prone state in the country and has suffered an agricultural loss of almost 22 Billion Rupees in the past twelve years due to flood disasters.