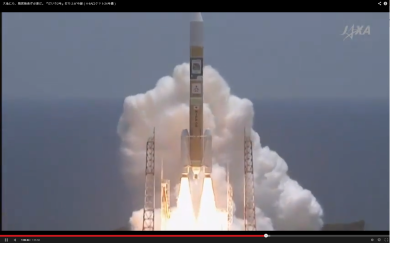 On 24 May 2014, the Japanese Space Agency JAXA successfully launched their new mapping satellite Advanced Land Observing Satellite-2 "DAICHI-2" (ALOS-2). The satellite was launched onboard the H-IIA Launch Vehicle No. 24 (H-IIA F24) from Tanegashima Space Center. JAXA reported in a press release: "The launch vehicle flew smoothly, and, at about 15 minutes and 47 seconds after liftoff, the separation of the DAICHI-2 was confirmed."
ALOS-2 will be able to monitor scars left by natural disasters as well as progress made in reconstruction, JAXA said, according to Geospatial World. The new satellite will not only collect data related to deformation of the Earth's crust, but also the impact of floods and landslides.
JAXA broadcast the launch live; a recorded version of the webcast is now also available on Youtube. The event was also covered on Twitter using #daichi2.
The satellite will also become relevant to support Japan's development cooperation in the area of topographic mapping. On 23 April 2014, JAXA had signed an agreement with the Japan International Cooperation Agency (JICA) to promote collaboration between two institutions to contribute to solving various development challenges that developing countries are facing. The two institutions will also work on global issues using aerospace technology by further strengthening ties and exhibiting combined abilities to utilizing respective unique features and human resources. JAXA President Naoki Okumura said: "JAXA will be able to provide more accurate topography data, which can be utilized in various sectors such as flood disaster prevention. Utilization of satellite information for ASEAN disaster management and protection of forests and preventing illegal deforestation at Amazon are the best examples that aerospace technology provides effective solutions to development challenges. JAXA's cutting edge technology becomes comparative advantage of Japanese cooperation, enabling JICA's work more effective."