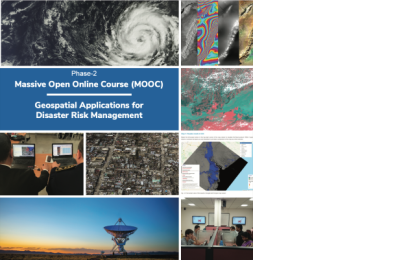 Phase II of the Massive Open Online Course (MOOC) on the "Geospatial Applications for Disaster Risk Management" was launched on 1 June 2021 by the United Nations Office for Outer Space Affairs (through its UN-SPIDER programme) and the Centre for Space Science and Technology Education for Asia and the Pacific (affiliated to the United Nations). The MOOC provides free and flexible online training to everyone who wishes to enhance their capabilities related to the use of geospatial and Earth observation technologies in disaster risk management.
Phase II is a continuation of Phase I of the MOOC, which was launched in 2020. It offered a much needed learning tool for capacity building during the challenging times of the COVID-19 outbreak. It received an overwhelming response from 29,727 participants from 104 countries. Phase II brings an enhanced version of the MOOC based on the feedback received from the participants.
Phase II of this MOOC aims to strengthen the knowledge of disaster management professionals, experts, and students in understanding the role of Earth observation and geospatial information in order to achieve the targets of the Sendai Framework for Disaster Risk Reduction 2015-2030, the 2030 Agenda for Sustainable Development and the Paris Agreement, stemming from the 21st Conference of the Parties (COP) of the United Nations Framework Convention on Climate Change (UNFCCC).
As its predecessor, Phase II will include a basic module (track 1) for professionals interested in enhancing awareness of the latest trends in disaster risk management and how geospatial and Earth observation technologies contribute to it. It will also include an advanced module (track 2) for professionals interested in sharpening skills in use of geospatial and Earth observation technologies in all phases of disaster management. Track 1 is a prerequisite for participating in Track 2
The registration for MOOC is open from 1 June 2021. Participants will receive details on accessing the course content after registration on 15 November 2021 and registration will close on 30 November 2021.
Please click the following link to register for the MOOC: https://isat.iirs.gov.in/mooc.php