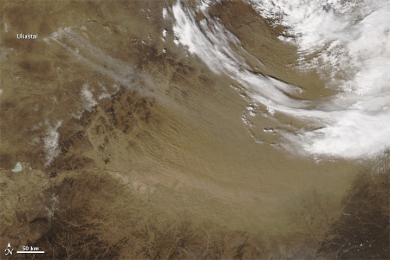 Recognizing the socioeconomic and humanitarian effects of drought in the Asia-Pacific region, the United Nations Economic and Social Commission for Asia and the Pacific (ESCAP) initiated the Regional Cooperative Mechanism for Drought Monitoring and Early Warning, under its Regional Space Applications Programme (RESAP). The Mechanism is active in five countries: Mongolia, Sri Lanka, Cambodia, Nepal and Myanmar. It provides space-base data, products and services to address gaps in monitoring and early warning for drought.
In Mongolia a large number of people is affected by drought, because of the big amount of people depending on land as a source of their livelihood. It is especially important to strengthen the region's preparedness, monitoring and early warning systems. Mongolia therefore requested additional support for disaster preparedness from ESCAP. The Mongolian National Remote Sensing Center (NRSC) and the ESCAP Information and Communications Technology and Disaster Risk Reduction Division (IDD), in cooperation with the East and North –East Asia Office developed a project to support the Mongolian state. First expert meetings were held in 2013 to discuss the implementation and applicability of remote sensing and Geographic Information Systems (GIS) in the case of Mongolia.
In early 2014, a series of activities will be conducted in Mongolia to address the gaps and needs for space-based information implementation. The Mongolian project will be used as a pilot for all the other countries.