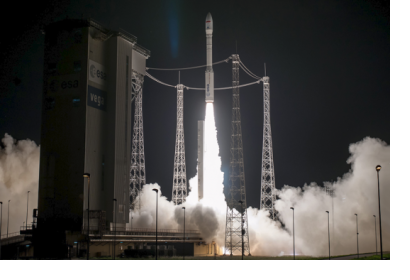 Morocco launched a new satellite on 20 November which aims to assist with a range of tasks including the prevention and management of natural disasters, monitoring changes in the environment and desertification, as well as border and coastal surveillance.
Mohammed VI-B, a remote sensing Earth observation satellite, was put into orbit via Arianespace's Vega launcher which lifted off from Guiana Space Centre in French Guiana.
The satellite is understood to have a panchromatic resolution of 50 cm, and it can take more than 500 images a day, updating its data every six hours.
Arianespace, majority-owned by a joint venture of Airbus and Safran, launched Morocco's first Earth observation satellite, Mohammed VI-A in November 2017.
Together, the satellites can help Morocco to mobilise resources in cases of natural disasters such as earthquakes and fires through better mapping of affected areas. In terms of agriculture, the satellites will aid in the dynamic mapping of land use, monitoring of crop production status, tracking usage of ground water and overall water consumption patterns. The satellites will also be able to gather of information on droughts and floods.
In addition, data obtained by Mohammed VI-B will be used for mapping and management of forest resources. This is particularly important in the context of tackling climate change by protecting and enhancing green cover.
The satellites will also assist in other important areas for Morocco such as border management, coastal monitoring, geological surveys as well as urban development and transport.
Thales Alenia Space, as system prime contractor, supplied the payload, including the optical instrument, the image transmission subsystem and the ground segment for image processing and production. Airbus, as satellite prime contractor, was in charge of its integration, as well as supplying the platform and the ground segment for mission planning and satellite control.
This article was contributed by Jack Kavanagh, UN Online Volunteer mobilized through www.onlinevolunteering.org.